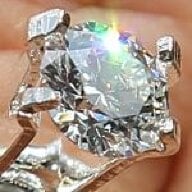 Joined

Apr 25, 2014
Messages

8,228
Apologies if this topic has been done before!
I was thinking the other day that I quite fancy a bit of fluor if I can get a wedding ring with a diamond in it past the missus' conservative taste...
I recall seeing various posts on here with pictures of the different fluor that is possible - white, green, yellow, orange, red?, the usual blue, pink? - but am I correct in thinking that all of them are pretty rare, the non-blue fluor especially so? The guide says only a small fraction of the fluorescent stones are anything other than blue:
https://www.pricescope.com/wiki/diamonds/diamond-flourescence
It would be awesome to get a stone that fluoresced a cool colour but methinks the search would be long and generally fruitless, especially for something like a step-cut in around half-carat size...