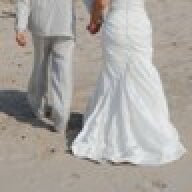 Joined

Dec 9, 2008
Messages

537
***This thread is NOT to debate BF'ing vs.formula feeding. PLEASE do not take it there. Thanks.***

As Ellie approaches her first birthday (October), I am starting to wonder about phasing out BF'ing. We exclusively BF right now, and it's going well, but I don't see myself still BF'ing much past a year. That said, we can take our time to ease the transition if she has a hard time giving it up. I don't pump at all and am not looking to start, even though we have a pump. I just find it to be really inconvenient (pumping, not BF'ing). Anyhoo, so I am looking for advice on:
1. How to cut back? I might like to keep up a once a day nursing (maybe first thing in the morning). Is that possible, or will I dry up?
2. When we do cut back/stop, do we go straight to whole milk? Or should she get some formula?
3. Slight tangent- Since we are thinking about working on baby #2 very soon, what happens to milk production if I get pregnant?

I will obviously ask her pedi about this, but you guys are a wealth of info. And as crazy as it may sound, I feel like I "know" several of you and respect your parenting knowledge/styles and know that PS'ers do their research!!!