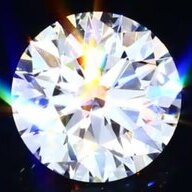 Joined

Sep 13, 2018
Messages

1,076
Hi All!

I've had my new diamond (ring) for about two and a half months now. I'm mostly housebound but have ventured out a couple of times.

Outside of my close friends where I said "look at what I got!" and knew they were happy for me:

So far, I've had two comments about my manicure. Now, it's impossible to notice my manicure and not my diamond. But no comments about the diamond. In fact, I didn't even catch anyone trying to steal a look.

And, when out for dinner with two of my closest friends, I mentioned that I have lately been considering a two carat. My friend responded with "Don't get a two carat ... you don't want to look like a douche-bag." (My diamond is 7.69 mm, 1.71 carat). When I mentioned that the two carat is only .5 mm larger, she was surprised and said "Only two mm larger?," which I confirmed but she said nothing else. This friend is very happy for me however, she loves diamonds (but not the single extraordinary diamond for herself, she prefers elaborate eternity rings), knows my ridiculous diamond journey and how much I have always dreamt of owning a beautiful diamond.

I'm not sure what reaction I was expecting, but thought maybe one person would say "wow, what a pretty diamond." At the same time, I used to feel awkward commenting on a stranger's bling ... do you think that people deem it impolite to comment on someone else's diamond? Do you think no one has noticed my diamond (I really don't "see" (haha) how this is possible). Do you think I already look like a "douche-bag" and so no one wants to say anything? (is this a stupid question to ask PSers, lol?). I have not been turning red and hiding my diamond, but I have not been flaunting it either.

Yeah. So my tally is two comments about the manicure and one warning about upsizing to a douche-bag, timeframe approx. 2.5 months. What about you?