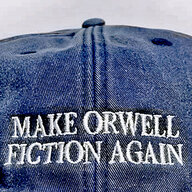 Joined

Apr 30, 2005
Messages

27,756
12:00 is when it changes between AM and PM.
For that reason the instant of 12:00 cannot be either AM and PM.

It's always bugged that noon is called 12:00 PM, and midnight called 12:00 AM.

Why don't they just drop the AM PM designations, and call them noon and midnight?

It's difficult for me to memorize things that are without reason.
My brain has a filter.
If it doesn't make sense, it doesn't get in.
Last edited: