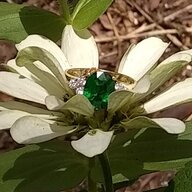 Joined

Nov 7, 2004
Messages

6,428
I live in a 3 bedroom, 2 bathroom house. The small 2nd bathroom has a bathtub/shower combo, toilet and sink. The current master bath is 6 and some feet wide to just shy of 14 feet. Right now it has a 60" vanity, toilet opposite that, and in the middle of the room a free standing tub, and that's it. We did stick an armoire in the corner to store linen and bedding.

the plan: take out the tub, and in it's place have a walk-in shower of 36 x 48" I can also make slightly longer up to 55". I will also have enough room on the other end of the room to both create a small room that opens to the hallway for the stacking washer and dryer that opens to hallway (right now washer and dryer are in my master bedroom). In the other far corner create built-in linen closet/shelving. Pros: nice walk in shower, get the washer dryer out of my bedroom, have a nicer place to store bedding and linens, and because I am doing minimal moving of fixtures (just shifting the shower plumbing about 10 inches, leaving everything else in place it will still cost money but be affordable. We are estimating around 2-2.5K.

Will it be a mistake for me to take out the tub? It is original to the house and beautiful, but to tell the truth I just use it to take showers, and in that case I'd rather have a built in shower than something I have to step in and out of. I still have a bathtub in 2nd bathroom, but is is smaller and not quite as nice as master tub.

I played around with the layout, and I can, by basically taking everything out and moving things around, both fit in a 32 x 48" shower AND a bathtub. The layout is nicer in some respect including making the toliet seperate from everything else, but it does lose the linen closet plus the vanity would need to be replaced with something around 42". The big but is this remodel would be significantly more expensive. How much more? Not even sure, but every single fixture is being moved, and hence replaced. 8K? + And torn out, no working main bath for months.

Would you do
a) keep as is and suck it up buttercup
b) do planned remodel, get 90% of what you want, and keep costs reasonable
c) wait. Do remodel when can afford ideal layout.
Last edited: