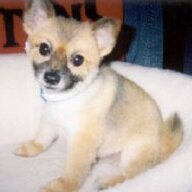 Joined

Apr 15, 2005
Messages

1,140
I went to work on Thurday at 10 am. After a long hour or so of mixing/making buffer, A-1 medium and mFC agar, I decided to retreat to the office (no desk, just a table) that I share with two other people. I sat down and heard a beep on my phone. Retrieving the phone from the dark abyss known as my bridal bag, I saw that I missed a couple of phone calls and a couple of voicemails were waiting to play into my ear.
After deleting numerous saved messages I finally reached the new-born messages. One was from Drew (like always) and the other was from a woman named Sue... from the Florida Dept. of..... Law Enforcement!!! They were calling to set up a time to interview for the position I applied for!! I almost fell down. I immediately called back, but the person had already gone to lunch..
Now's the time to start calling friends and family....
After an hour and a thirty minutes of talking to everyone, I tried to call to set up the time again (with my cell battery on it's last leg).. When she answered I told her my name and that I was returning her call regarding the forensic technician position I applied for... She said it's NOT for that position and the actual title is Crime Analyst! Now, I could be wrong, but I believe that position is two levels higher than the one I applied for!! I immediately set up a time in between hyperventilating and wanting to throw up...
So there you have it friends... I have made it one step closer to having one of my dream jobs... I have a week and a half to prepare for this interview... And I still can't breathe...
So, the countdown begins....
10 days remaining until my interview........

ETA: Know what would be totally funny? If I land this job, I'll be making more than my fiance (salary range for this job is between 40 and 60 a year!). He has 5 years experience with the federal government under his belt and has had two or three full-time jobs.. This will be my first full-time job ever and I have zero experience! Unless you wanna count the 6 months or so I've been working in my lab, but it's not the same field. What I really would like for them to do is hire me under trainee status so I can go through their training program. One, because I will be properly trained in this field and two, they will require me to sign an agreement stating I will remain with them through the program and for two years after completion (job security!!). It's less pay during the program, but I don't care, whatever it takes.. I WANT THIS JOB! Posting this on here won't affect my karma will it?