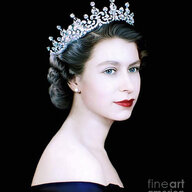 Joined

Oct 24, 2012
Messages

5,269
I am nervous, I'm not going to lie. This is all so unchartered & new. My girls were devastated last Wednesday when told of nationwide school closures. Big, heaving sobs - it was very hard to stay so positive & reassuring when I just didn't know what to say.
But it's Monday morning, it's a new dawn & we are marching forward. The schools suggested timetable is 2 hours of work per day, an hour of which each teacher will set online every morning.
Our Monday to Friday timetable looks like this:
7.00am - up as normal.
7.45am - breakfast.
9.00am - 30 min PE Class (in the UK we have a fitness trainer called TheBodyCoach, who is kindly going live on YouTube each wk day with a fitness class for the children)
10.00am - 1 Hours online school work.
11.30am - 30 mins helping with housework (life lessons, right?!)
------
1.00pm - 1 Hours work from the school supplied homeworking pack.
3.00pm - 1 hours outdoors activities. This can be anything from gardening to riding bikes. We live in a very rural area, so whilst we're in official lock down, we have plenty of empty fields to mooch in a a large garden that needs weeding
I am keeping my timetable quite relaxed with plenty of gaps for a breather. As our Head Teacher said, all we can aim to do is keep their brains ticking over & their interest high. If they have days where they don't want to work, that's fine. If there are days where they want to do LOTS of work, that's fine too. We are not being expected to teach the curriculum over the next few months. My girls both read for 30 mins each night in bed during the week as well, which will continue. They know that until we officially hit a school holiday period, there will be structure.
It's 8.30am & we are all dressed in out PE Kits, ready to start leaping around the lounge.
Hopefully this will be easy. Fingers crossed!