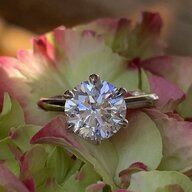 Joined

Dec 9, 2018
Messages

332
Hello all,
I thank you all in advance for your thoughts. I am sort of new here. I signed up maybe a decade ago but did not participate much and stopped coming here. I started reading posts again 3 years ago when I had my first upgrade but did not post as I forgot my username. I just signed up again.
My original e-ring was a 0.63 carat round eyeclean I SI1 from a B&M store. 3 years ago, I finally upgraded to an I VS2 1.37 expert selection from WF. I kept my original e-ring and made it into a necklace in a bezel setting. After having the 1.37 for 2 years, I again upgraded to a 1.87 J VS2 expert selection from WF last year. It's very white face up and very sparkly but in some lighting, especially at work, I can see the warmth and it has started to really bother me. I did not notice it as much with my I stone but it was also a slightly smaller stone. I love my J stone majority of the time but I think the warmth i see part of the time is starting to bother me more.
On with my upgrade thoughts... I am looking at same size stones in G and H colors both ACA. The G color would cost me $10,000 and the H color $7000. My rep feels that the H color is enough to provide me with a visual difference. I am torn if it is worth even spending $7000 for a 2 color grade upgrade and cut upgrade as it is ACA vs expert selection. I'd like to keep it under 2 carats as I feel ( most of the time) it's big enough for me
and I don't want to pay for the mark up when you hit 2 carats. I have a size 4.5 finger.
Do you ladies think this is worth it?
Thank you so much!!! I would appreciate everyone's input.