Hi,
I'm on the hunt for a MRB diamond for an engagement ring however have quite a small budget. Using the information I've found on pricescope I've found this diamond which is almost perfect except for the SI2 feather...
It's $2,230 and I've got it on hold so need to make a decision asap, would love some input.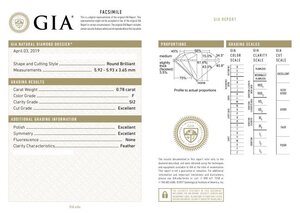 8008091 - This 0.78 Carat Round diamond F Color SI2 Clarity has Excellent proportions and a diamond grading report from GIA
www.jamesallen.com
To give you an idea on what I'm after
Cut is priority
Colour H and above
Clarity eye clean
Carat anything with a 5.9-6mm diameter
Budget ideally closer to $2,300 but up to $2,450
Setting will be BGD tapered classic solitaire in yellow gold or something similar
Thank you!