Joined

Oct 13, 2016
Messages

11
Hi Everyone,
I am new to this site! I have been looking around for awhile to get ideas. Anyways my SO and I made a purchase to get a diamond the other day and now we want to get a new setting for it. It is an older diamond and by no means perfect but is perfect for us.
Roughly
2.9 carats
12.8 x 8.3
Color J
SI2 clarity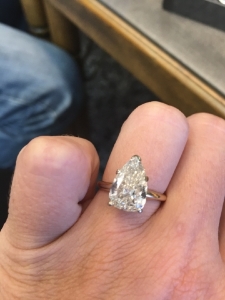 My question is does anyone have any suggestions for the setting?
I keep going back and forth. Would the idea of getting a halo take away from the size of the diamond or would it showcase the diamond? Do you think because the diamond is a J the halo would make it look yellow?
The other idea would be to get a setting like the Lauren B one that the diamonds are below the diamond. Would this make the diamond appear brighter?
Last question. The diamond is cut pretty shallow. Is there any type of setting that would actually make it sparkle more or help the cut of the diamond?
Sorry for so many questions!