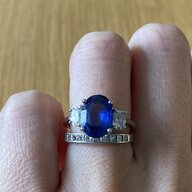 Joined

Aug 21, 2006
Messages

671
Hi! It's been years since I've been on Pricescope, but I recently purchased a 1.52 J SI1 OEC and am in the process of getting a custom setting in platinum for it. I know exactly what I want it to look like based on a ring I came across in an antique jewelry store on a recent trip. I tried my best to take photos of the setting, but they probably still aren't the best. It's just the perfect delicate setting that I want for the new stone. This will be a right hand ring for me with plans for it to be an heirloom for my youngest daughter who has an April birthday
I sent the same photos I'm attaching here of the setting to the local jeweler who is making the setting for my diamond. I received the CAD's today and I want to make sure I'm looking at them properly and indicating clearly to the jeweler what needs to be modified. Can anyone help please? For whatever reason the CAD makes this delicate ring look really clunky (almost masculine) to me, but maybe I don't know how to look at them correctly.
Also, the jeweler said that engraving is not (and will not be) indicated in the CAD.
For perspective, the OEC (not mine) that is in the setting is a 1.33 OEC that measures 7.25 x 7.08. Mine measures 7.48 x 7.64.