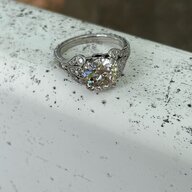 Joined

Oct 27, 2020
Messages

20
Hello,
I have found two different diamonds that I am very interested in, however one is G and one is I. I really like the pink tint of the I, but im not sure how they look IRL. Does one look better than the other? Will the performance be the same?
https://lovbe.com/tools/ring-builder/step-1-diamond-details/?diamond=lb7316485
Design your own engagement ring with LovBe using certified lab grown diamonds. LovBe is the best place to buy lab created diamonds. Shop now!
lovbe.com
Thanks for the help!