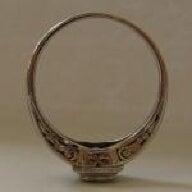 Joined

Jun 20, 2006
Messages

2,822
Hi everyone!
I have a good friend who''s in grad school with me and will be getting her PhD in the next year. I''d like to get her a nice gift, but I (having not graduated) don''t have tons to spend on it. She doesn''t have any "nice" jewelry, not even any mall pieces. I''d like to get her a nice stone or little diamond. I think earrings would be nice, but I had an idea about making a pendant, and I''d like some advice.
I was thinking of resetting a vintage/estate pin as a pendant. I have some minor silversmithing skills, so I may attempt it myself, or have someone else do it depending on the piece.
The question is, is resetting a stick pin like those pictured below likely to make a nice pendant? She''s tiny, so it doens''t have to be very big, but I don''t want it to be too small either ( I think a solitare 0.3 ct pendant would probably tow that line). Is a .5-1" pendant a nice size on most people?
Opinions please!