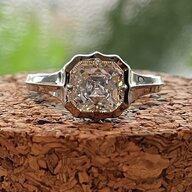 Joined

Mar 2, 2013
Messages

6,224
I am considering a diamond purchase to match closely with the two smaller diamonds in the pictures below. I'm trying to get an idea of what color range these two may be, as I cannot recall from when I purchased them about 2+ years ago. I know we can't tell exactly from posting pictures, given lighting, screen differences, etc. and I'm not necessarily asking for a specific letter grade on them. Rather, I'm hoping to get an idea from those with better eyes for color than I (I'm not really color sensitive) about how many grades different they appear to be from the one in the middle, which is an 'M' for reference.
I took two sets of pictures in the same room/lighting - one with my cell phone, the other with my iPad. With my eyes & looking at them in person, the cell phone pics seem to show the color variance more accurately than the iPad, but I wanted to try both options to be safe.
Any educated/prosumer guesses as to if they are about two, three, four or more letter grades different/higher?
Just trying to gauge what range of color I should look at for the third to match.
Thanks so much, in advance, for any input/assistance!