Hi there!
I've just started shopping around for engagement rings, and I've shortlisted
James Allen
, Distinctive Gem, and The Art of Jewels, based on reviews. I am looking for something like this: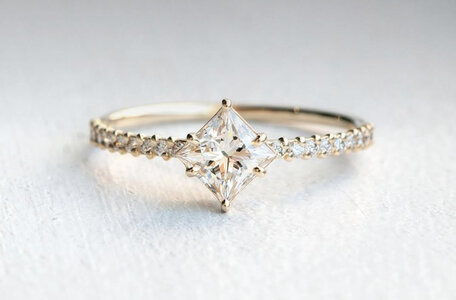 - pave ring in yellow gold
- princess cut diamond in the 0.7 to 0.9 carat range (as i understand it, the diamond in the image is 0.7ct but no idea what the width/length is)
- kite set
I've reached out to all 3 jewellers to find out more about custom pricing. Does anyone have a recommendation between these 3 jewellers for "custom-set" rings, or any to avoid due to poor workmanship etc? I'm hoping TAOJ works out because their diamond prices are much more competitive!
Also, what considerations are there between choosing a HPHT diamond vs. a CVD diamond? Based on the articles I've read so far, people either recommend HPHT, or they say both are equally fine. I note that the CVD diamonds tend to be cheaper?
Thank you in advance!