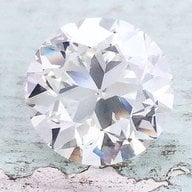 Joined

May 23, 2016
Messages

1,041
First, I would like to thank everyone (especially Gypsy) for all of their help with finding my stone. It has been a long journey to find the perfect stone and now I am at another dilemma, the setting. After months of researching/looking I am torn and having trouble deciding. I was hoping that i would find 'the one" that really sang to me like my stone did, but no such luck. This is an upgrade ring and will not be worn everyday.
When I began looking for my stone I was certain that I wanted a Harry Winston style halo with the pave shank. After pouring through many PS threads and browsing the many recommended vendors websites, I am uncertain of what I want and was hoping to get opinions from other jewelers lovers and people who may own similar settings. I went to local jewelers to try on ring and get a feel for different setting styles.
Here are my thoughts:
1. Although I had not originally thought of this, I fell in love with the pave detailing in the basket/gallery. I know that it adds expense for something that no one really sees. However, it feels really special and I love the way it catches my eye, like a little hidden secret. Possibly even the pave along the sides.
2. I am feeling that given the elongated shape of my stone that a split shank would be more balanced for the proportions of the stone.
3. I love the delicate halos that designers like SK and VC make. I think it takes it to a new level and given the chunky facet pattern of my stone I thought that it would add more scintillation to those big bold flashes.
I have been unable to find exactly what I want, but my top two favorites are:
Casablanca Solitaire or Casablanca with halo in platinum
https//www.stevenkirsch.com/gallery/casablanca-solitaire-rose-gold-diamonds-r0159/
or
Bespoke Ring R-0158 (possibly with a split shank)
I am leaning towards this setting slightly because I feel that the millgrain speaks to the antique feel of the stone and like the simplicity of the basket detailing
https//www.stevenkirsch.com/gallery/bespoke-ring-r-0158
My question is should i just pick one of these two, ask SK to merge and create something inspired by the 2 or keep looking? Any suggestions or feedback is greatly appreciated.
I have attached a picture of my stone to show the shape and approximate finger coverage.