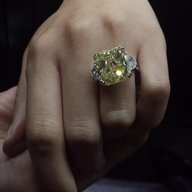 Joined

Oct 6, 2014
Messages

70
Hi Everyone! I was hoping I could get some opinions in regards to purchasing a cushion cut diamond online. This one has really caught my eye and I am very close to taking the plunge, however, since it is such a huge purchase for me I wanted to get some advice from the experts on here.
I've seen some cushions online with a 'crushed ice' appearance which does not appeal to me as they can look dull/lackluster. Also, I had read somewhere a large portion of cushions are cut this way to save the carat weight and therefore more margin friendly.
What are your opinions on this one? From an untrained eye I really like the cut as I think it looks very unique but is this considered to be great cut aesthetically in general?
I am happy with the color/clarity/ratio (I'm not really interested in a square) but would still love your thoughts on this!
I really am very new to this so any input would be really appreciated