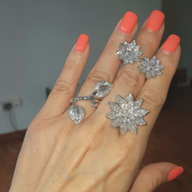 Joined

Oct 5, 2006
Messages

9,626
My BGD studs are getting worn to death!! I wear them every single day, day and night, regardless of the occasion! I'd like another pair of everyday earrings. I'm planning this waaaayyy ahead of time, probably 1 year out. But I know that, for
me
, anything that is not well thought out, carefully planned for, will not get worn and it'd be a complete waste of money....been there, done that, not going back again!

Also, the second pair needs to be in the same league as the BGD studs, bc I have several cheaper pairs of earrings which are sitting at the back of the wardrobe, unworn and unloved.
My criteria are:
- I'd like them to be as sparkly as possible, I'd want them to be disco-balls!!

I'm not a subtle kind of person

- My BGD studs are 8.6mm and I almost always wear them with jackets, so the overall diameter is probably closer to 11-12mm. I'd like the new earrings to be at least 10mm or preferably larger, and white or near-colourless (ideally no lower than H, but I may be able to go down to I colour).
- I prefer studs over dangly earrings, bc I lost a 1.5ct F dangly earring a while back so am a little reluctant to go this route again.
- The new earrings should also be in diamonds and set in WG or platinum, bc I tend to only wear white jewellery the most.
My options are:
1. Get another pair of studs, precision-cut, like AVC's or AVR's. My concern is that AVC's are cut deeper and face up smaller. And they seem to be fewer in availability, even in singles, less alone a matched pair. If I go the AVC route, I may get them permanently halo'ed. Also, cost-wise, is this a realistic option (both lines carry a premium, no)?
2. I'm open to antique-cuts, but again finding a match in a higher colour would be difficult. Also, would they be disco-balls enough? I read of large pastel flashes but I'm guessing that this effect is nicer for rings, not for earrings, is this correct?
3. Van Cleef Frivole earrings - at the risk of sounding obscene, will I wear these? They are very cute, almost too cute!! I'm concerned as well that they may not be comfortable to wear or easy to match with my other jewellery, as they may not be "neutral" enough. I love love love VCA, but I think their earrings are either too mainstream (like the Alhambra line - Please I don't mean any offence to those who have or like them, they're just not me, at least not in earrings; I love them in pave necklaces and bracelets though), or they are too high-end and horrendously expensive (as in not "value for money", if one can even talk about VCA in these terms, lol) and too elaborate and therefore may not be very wearable either (like the Snowflake or Oiseaux de Paradis or Flowerlace lines).
http://www.vancleefarpels.com/us/en/collections/jewelry/floral/frivole/vcarb65800-frivole-earclips-small-model.html
4. Another option (I can't think of any right now, lol). Please give me some ideas.
So, ladies and gents, please help me plan ahead. Whichever option, please if you could link me or post pics if possible. Thank you.
Budget-wise, $50-80k.