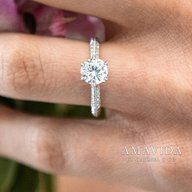 Joined

Jun 18, 2015
Messages

120
Hi all,
I saw a C&C F1 oval moissanite 1.5ct equivalent and have decided I want an oval moissanite for my engagement ring.

Are there any issues with the C&C F1 I should be aware of?
Doing a quick search I see some like the August Vintage cuts in diamond and oval moissanites but he's in NY so if I purchase it that will be it, no returning after viewing! Except I find someone coming to London on a short visit which isn't an impossibility.
However, AV don't have oval moissanites at the moment. What's the benefit of AV over C&C?
I've also seen some posts about LaurenB and crush ovals. I've never seen this in real life but I think I prefer the normal cut we see in London here like the C&C.
I'll be most grateful to receive advice and suggestions to enable me make an informed purchase please.
Thank you.