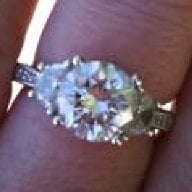 Joined

Jun 18, 2010
Messages

5,765
Help! After our morning wedding an brunch reception we are heading straight to the cruise ship. I want to change out of my wedding dress before getting on the bus to go to the port. This is what I was thinking about:
http://www.davidsbridal.com/Product...NT83312_Bridal-Gowns-Shop-By-Silhouette-Short
I saw this dress months ago and always thought it would be the dress I'd buy. It's cotton, flowy, fun, and only $99
I'm now having some doubts. The big one is the dress is only available online, which means I couldn't try it on. I have a really hard time getting dresses that fit because my waist is small compared to my boobs and hips, so dresses are often way too big in the stomach area. I don't *think* that would be a problem with this dress, based on its shape...I guess I could order two sizes and return one?
The second problem is it's strapless. That means I'd have to wear a strapless bra, which I hate. I guess I could have some sort of support sewn in, but I'm not sure if that's possible given the fabric. I don't want to spend the whole day pulling up the top of the dress.
I'm looking to find a dress that's similar, but perhaps a halter or with some other straps. Can anyone help? I'd like it to be right around the knee in length and some sort of cotton (I'll be wearing this all over the ship and to dinner that first night, and it's going to be hot and humid). I don't want to spend a ton, maybe up to $150. Obviously the lower the better.
Thanks in advance for any suggestions!