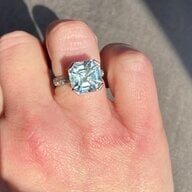 Joined

May 30, 2015
Messages

362
Hello everyone.
Thought it best to start my own thread after so rudely hijacking
@GossamerAngel
thread.
I have been reading all the threads on these neon red/pink "Jedi" spinels and reading Yavorskyys description of them and now I must have one for my own.
I seem to fall in love with the pinkish and reddish ones in turn but ideally
- .5-1 CT (I really can't afford the larger ones happier with closer to .5 as long as the colour is top notch
- Quality of cut is more important than shape. Just no pears. I love cushions and ovals and
@voce
mentioned that she sees mostly cushions in that red colour I so love so that is a bonus
I don't really have a budget exactly. I was hoping to keep to $400-$500 USD but my heart may over rule by bank account.
I have a few contenders here. Still don't seem to have that really gorgeous super intense red I have seen. I do love the pink ones but seem to be holding off pulling the trigger as that really intense red has me in its clutches.
Below are the ones I am considering. I will try to find an image of one I just love but can't afford for comparison.
Thanks so much for everyones input I really appreciate it.