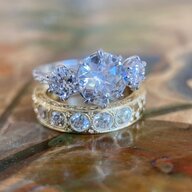 Joined

Jun 23, 2010
Messages

227
I can't make up my mind on anything lately, so coming to PS for help on which red gem to set next! Recently, I purchased a pair of of ~4.7mm OECs for a 3-stone diamond ring project, but the jeweler found another similar pair that worked, so now I have a spare pair of diamonds. I was all ready to return it if it didn't work out, but I took one look and decided to keep them lol. Anyway, I have no shortage of gems that still need to be set, so I started pairing them with some of my red stones that are also dying to be worn.
The top 2 on my list right now are a set of 3 smaller Burmese red spinels and a pinkish red Burmese ruby. All happen to be purchased through Desert Rose.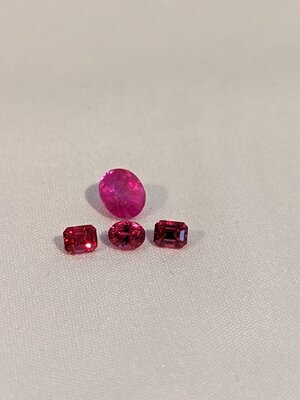 Spinels
The pair of emerald cuts are 0.80ct (4.3 x 3.4mm) and the oval is 0.42ct (4.8 x 3.7mm); so they are close enough in size that I could set them together though the oval is ever so slightly more pinkish that the emeralds, which look almost neon red. Are they Jedi? I don't really know, but they are super sparkly and almost neon to me. I've literally had the emerald spinels sitting on my desk every day while working from home for the past 2.5 years, then I acquired the oval about 8 months ago. I think all 5 stones together would make an amazing colorful band; I could imagine an antique Victorian style half hoop with some fancy scrollwork, or maybe a simple shared prong band with engraving?