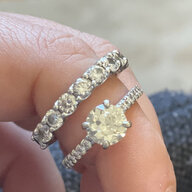 Joined

May 19, 2021
Messages

12
Hi,
I would love some advice in choosing a pair (my first!) of diamond studs. Originally I was going to go with a pair of 2.04 ctw studs at a local wholesale jeweler for $5950. After doing (much) more research, I've come to realize I'd prefer certified diamonds that really sparkle. I have spent a lot of time on
WF
and leaning towards ACAs that will really give the sparkle I'm looking for. If I'm trying to stay within my original budget, I'd likely need to downgrade to ~1.45 ctw. The nice thing is the
WF
lifetime upgrade, so if I end up regretting the smaller size or growing out of them, I can always upgrade later. The other options are to go above budget at 1.8 ctw for ~$8500-9000. I really think 2.0 ctw is out of my budget with ACAs but I could (with your help!) find something for 2.0 within that range that still sparkles from another site. I'm ok with H, I, or J color, VS2, S11 or S12. Really want to focus on the cut.
Any help/experience/personal stories of similar situations would be much appreciated! Here is a link to the ~1.4 and ~1.8 options on
WF
.
1.4:
https://www.whiteflash.com/loose-diamonds/compare/?idnos=4383161,4336468
1.8
The most carefully chosen diamond pair. Every diamond is unique, but we choose the most similar diamond pair