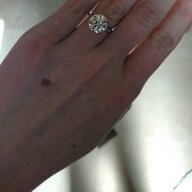 Joined

Jul 23, 2016
Messages

143
Hi all! This is my very first post! I can't believe I've lived my life this long without knowing about this forum!!! In advance I'd like to say thank you for all advice, it will be greatly appreciated!!
So here is the deal, I am upgrading my engagement ring and my budget is 50k... I have a diamond on hold at
James Allen
https://www.jamesallen.com/loose-diamonds/round-cut/4.02-carat-i-color-vs2-clarity-excellent-cut-sku-1861651
They have had it inspected in NY by a gemologist who says its fluorescence does not cause any negative effects and in facts lifts the brilliance and makes it appear more white. My next choice is at a jeweler in NY. Unfortunately I am not in NY so I do not have any pictures just the GIA report and their word. It is a G color and I'll quote them "Triple Excellent Hearts and Arrows diamond, meaning it is cut to perfection with great proportions. If you follow the HCA tool, you can see that it scores really well on HCA 1.9 is the score." They also call in a SI2+ and say that the inclusion is on the side and it would be rather inconspicuous in the setting. I'm going to attach the GIA report...
So guys what do you think? If I had to pick today I would probably go for the G color because I desperately want something whiter with more sparkle than my current, but by all means I am no expert!