Nice to e-meet you all!
I have been reading the forum for the last I guess 1 month, but eventually decided just to give it a go and post a new thread hoping to get some nice advices. I'm planning to propose to my girlfriend as soon as I set my mind on the ideal ring. I will try to keep it short with a few key details:
1) Budget ~4500$ for setting and diamond. Diamond will be round. Setting will be in 18K White gold.
2) Carat around 0.60-0.75. Nothing more than this. She is in the medical industry so anything above would hinder her daily tasks.
3) Whiteflash vendor, going for ACA diamond. I prefer to get 0.60 ACA with better colour and clarity than a 0.75-1.00 with less quality.
So I actually can decide on the diamond really fast , but the setting is the problem. I have come down to three options with their pros and cons. Hope you help me decide:
1) The famous Vatche U-113.
Looks to me like the best Tiffany replica and my girl ( no surprises) really likes Tiffany. It also sits flush with a wedding band.
My biggest concern here is I am not sure if it will look good on 0.60 carat diamond with the tab prongs. They said claw prongs can be made, but today I found a thread where claw prongs on U113 didn't look good at all. PS members mentioned Vatche are good at tab prongs and it is not a good idea to consider claw. Also claw prongs would make it look less like a Tiffany replica. Tab prongs seems like they overwhelm the diamond.
U-113 on 0.75carat with tab prongs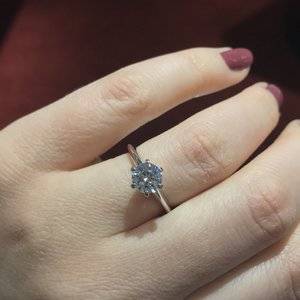 2) Elegant Tiffany (
https://www.whiteflash.com/engagement-rings/solitaire/elegant-tiffany-style-solitaire-engagement-ring-3581.htm
) . Actually this is my favourite, claw prongs looks amazing and the price is half the one on U113. Getting that I might either save 800USD or go with a bigger diamond.
Concern here is I cannot really find any information on that setting anywhere. In addition the ring would not allow to sit flush with a band. Whiteflash website states that thickness is only 1.4mm which to me seems very low.
U113 ( back ) vs Elegant (front). Quality gets bad when I upload but you can still see the more delicate prongs on the elegant setting.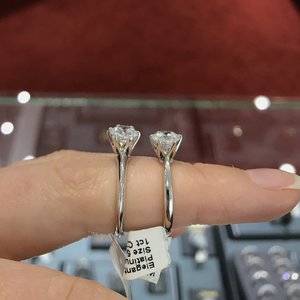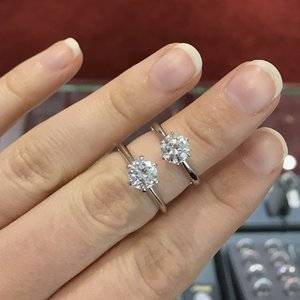 3) CVB Jovyn (
https://www.cvbinspireddesign.com/product/jovyn-ring/
) Just WOW. Seems like everything I want is in this ring. Too bad it is not listed in the Whiteflash website. I am even willing to pay the high price for it. Claw prongs are amazing.
Concern here is ... can I buy it and they send to Whiteflash to set the diamond? What is the process ? Is there any guarantee from both vendors ?
As a last note, I have to mention that the engagement ring will be sent to Europe. So I expect to pay some VAT , but that's not an issue. The issue with me not being in the USA makes me reconsider the CVB setting because if there is any problem it might turn into a mess to deal with two vendors on the other end of the world.
And another thing - I know of the Whiteflash Classic Tiffany modification that you guys share here. I do consider it as well, but I couldn't find any examples of the modification with smaller diamond , so I prefer to play safe and not go for it, especially when I am so far away and don't know what I can expect as an end result.
Thanks a lot!