Joined

Aug 27, 2019
Messages

52
Hi out there,

This is a thread for everyone to post their favorite gem/shade of that gem in each color family - assuming you'd be setting into a ring (more durable is better).
I just got into colored gems, still learning, and I love neon/saturated colors, so naturally I want one of everything, haha. But I'm not in a place where I can afford honkin' gems so I'm planning to start by slowly build a collection of the small and mighty in solitaire stacking rings. (I don't know where I read the term first but it might have been on instagram, but I want a "skittle stack.") My bday was this month, so I'm starting by getting a reddish pink burma spinel in 3mm round from Yvonne at Cecile Raley. (Shoutout to all the nice reviews on PS!)
I don't plan on having them all be round stones or even exactly the same size, I just want to get really nice specimens of every gem. I was inspired by the following stacks by Gurhan (and you need stacks on stacks to get these stacks



):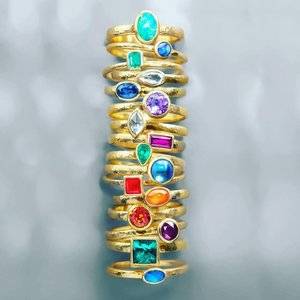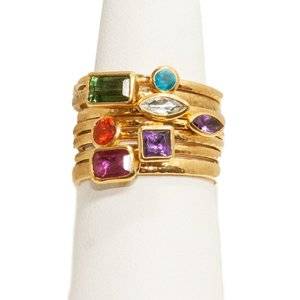 Other colors I got in my sights are:
- Highlighter yellow green like this emoji: maybe Mali Garnet? Chrysoberyl?
- Bright green: Yvonne suggested Russian Demantoid
- Neon Teal: Brazil Paraiba (gotta save up for this one, even if it is small)
- Neon Cobalt: Cobalt Spinel, maybe hauyne but I'm afraid it won't be durable enough?
- Magenta/Purple ??
- Orange: (Spessartite?)
- Coral: Padparadscha
- Alexandrite because they're teal and change color
ALSO: do you think this kind of eclectic stack of rings would look better in a yellow gold or white gold?
I have traditionally leaned towards yellow on myself with non gem jewelry but I don't know if the yellow would compete too much with the colors.
Thankkkkss