Joined

Dec 22, 2018
Messages

33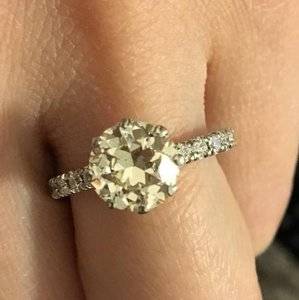 I bought this old cut diamond ring from eBay. I think it's amazing and am head over heels in love with it but it has a small chip on the edge of it.
Unfortunately I don't have a decent camera to take a close up photo of it but from this pic *i think* the chip is just left of the top prong. It wasn't mentioned in the listing and I didn't notice it in the photos and only saw it when I was examining it under a loupe.
It is quite small and seems to be from the girdle up onto one facet. How hard would this be to fix? Could it be polished out? Would it make the diamond uneven?
Returning it wouldn't be a problem but if it would be relatively easy to have fixed I would rather keep it. Any advice would be much appreciated.