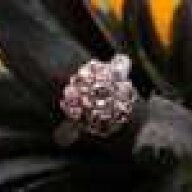 Joined

May 19, 2007
Messages

49
Well, as the subject line says, I''ve recently found out I''m highly allergic to nickel and my e-ring (and already-bought w-band) is 18kt white gold.
Either way, it''s time to start searching for a plat or palladium setting and I''ve been perusing through several PS vendors and am at a complete loss and need help!
Firstly, this e-ring (and w-band) were bought locally (I''m in GA) and we still haven''t gone to the jeweler (not a maul/chain jeweler, thankfully) to see what all they''ll do in this case (I''ve had the e-ring for approx 8 months already and this nickel issue just recently came to light--in a BIG, GROSS way!).
If the original jeweler would take back the entire ring (minus my center stone), would any PS vendors work with a stone bought elsewhere and place it in one of their settings? Mind you, I realize we''ll lose money if we don''t go through them again, it''s just a question I decided to pose on here to get some expert advice before even taking the issue up with the original jeweler.
I have fallen head-over-heels in love with a setting I found at Pearlman''s: the
Ritani
Signature Setting (solitaire with pave and diamonds set in between the basket (if that make sense?!)...and I''m hoping to get that one or one similar to it. Our original jeweler isn''t a
Ritani
dealer, however, so we aren''t sure how that would work; whether they can still order from
Ritani
(or any other designer, if need be), upon request or what...another point we need to discuss with them.
Any advice will be greatly appreciated!
HAPPY EASTER!!!