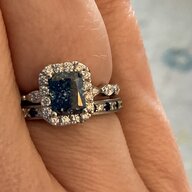 Joined

Apr 17, 2006
Messages

2,259
I am looking to make a fancy RHR. This is one of the few occasions when I want a bigger diamond. Here is the inspo: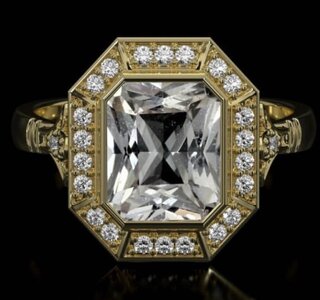 I found some diamonds called spring cut and they would be great.
https://www.pricescope.com/communit...es-post-them-here.258921/page-12#post-5223945
.
Problem is, I can only find them in sizes up to a carat, except for the above, which is not very big. My understanding is that they are a proprietary cut that is not actively in production anymore. If someone can find a EGD in 2.0+ ct I would consider saving up for a few years. But that would take years and knock out the budget for other projects. So a LGD is more realistic.
Search for LGD in this special cut has been negative so far. Choices:
1. Wait a few years. Based on changes in the LGD market the odds of being able to custom order a weird cut within budget are very good in the near future, even if no one starts producing them routinely.
2. Find one already in existence. Problem: slim odds.
3. Use a substitute cut. Example: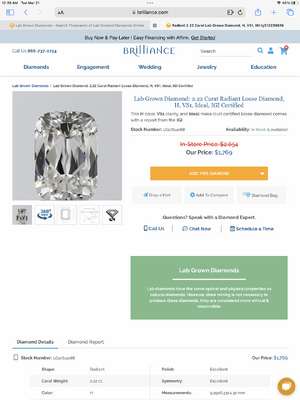 Problem: what I really like about the inspo ring is sharp square corners.
4. Find a radiant that looks like the one in the inspo pic. Problem: every radiant I've ever seen looks mushy in the middle.
5. Buy an available EGD, check to see whether I like the cut in person, and see if one carat would be big enough. Problem: am guessing not.
Questions:
Is it possible to set the "substitute" cut in the rectangular setting and get the inspo ring look? Would that be settling?
I am leaning toward #1 (waiting) and #5 (return policy). But would love to hear thoughts, especially whether you think #3 would be settling..
Budget (stone)
-LGD spring cut (if you can find one) = I'll pay $3k
-LGD in standard radiant cut that looks like inspo = Given the market and that there are lots of radiants out there, I won't pay more than $2k
-LGD in "substitute" cut = I'm finding so many under $2k
-EGD in spring cut = $25k but don't bother because it would be years and probably gone by the time I have the $$$
Specs:
-Color: ok to go way low
-Nuance: brown/yellow fine; blue/grey not for this project
-Clarity: I hate SI1 but will sacrifice for budget if the inclusions are not black or under the table
-Fluorescence: don't give a hoot
-Size: I dunno… I never buy big diamonds because I don't wear them often enough to justify
This project is not urgent but for those of you who like hunting, here is a challenge!