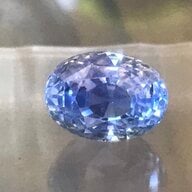 Joined

Jul 14, 2020
Messages

320
Hi Ps'ers,
Hoping for some guidance here.
The picture below is of what is left of my mother's engagement ring. It used to have a big dark green emerald in the centre. It was given to my sister. The emerald broke after getting hit in things too many times (it sits high off the hand which always bothered my mother as she knew it would break).
After many years my sister's partner who had never given her an ER decided to have the stone replaced.
I can't remember what stone he said it was at the time but it presents black (although it's very very dark green).
My sister was devastated. She hates it. On a personal level I'm unhappy that it wasn't restored to its original beauty as my mother and father have passed away so it has large sentimental value.
I want to find her an emerald to put into the ring to replace whatever the black stone is.
All I have at the moment is this picture because she is in another city 800kms away with a closed boarder.
I have requested more pictures and measurements from her but she isn't exactly forthcoming with them (not sure why - last time I spoke to her she offered to give it to me permanently and I said no because I got my sapphire from dads side and she got the ring from mums side ... it's possible it now reminds her of her cheating partner that has moved on because of the stone and how he always got everything wrong this being a perfect example, I also think it may not fit her anymore (?))
Anyway I can spend up to $1000 maybe more if she decides to throw in for it when I find the right stone.
That's Australian Dollars (which isn't great). Also we have a new tax boarder thing happening now where if I purchase something over $1000 we have to pay tax.
Not concerned about clarity (to a point) - but want a really nice deep green with a good cut in the same size so the setting doesn't have to be altered.
Am I best to source this stone online and then have a jeweller swap the stones - (my original intention) or better to find a jeweller tell them the budget and give them the ring (which I'm pretty sure is what her partner did and where it all went wrong as he insisted the stone presented green before it was set).
Lastly is this even possible within our budget? While not against a created stone obvious preference would be for a natural one.
Anywhere you suggest I start looking?
Will add more photos once I manage to get some.