I am looking for either a vintage or antique curb link bracelet, prefer 14kt or above, to use as part of a project.
I was hoping to spend under $500 and so far I've only found really one option that I like.
I plan on essentially dismantling a ring I have and making it into a bracelet similar to another one I have. I have tried to sell the ring without any luck and so I was going to convert it into basically the same concept as the picture below, because I will wear that. Yellow or white gold is fine, but it's probably going to end up being yellow with the age I'm looking for.
I'm including a picture of the completed piece that I have for reference, but I'm looking for a chunkier link. Not something thin or fine.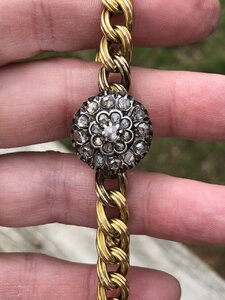 Any ideas? Tia!