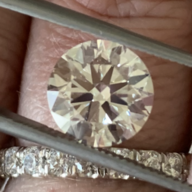 Joined

Mar 10, 2018
Messages

61
Hello lovely Pricescopers!
I am thrilled to be currently on the market for a new diamond. My partner will be doing the ultimate selection but I'm helping him with information since I have more diamond knowledge. I'm more informed than average (if I do say so myself!) on the four Cs, but I'm a little rusty on the exact cut proportions/ratios/HCA etc. Also I'm aware that understanding in this area is evolving. I would greatly appreciate this forum's assistance identifying some decent prospects, if for nothing else than to help confirm that my current desired traits are realistic within our budget. So, here goes:
Carat: 2.3-2.6. I'd love to try to get an 8.5 mm. Honestly I'd love to go even bigger but I don't think that's in the cards considering my budget and color preference.
Color: D-F. I am extremely color sensitive, but I'd be open to a G that is otherwise outstanding and icy white.
Cut: Round only please. And I am very concerned with getting as excellent a cut as possible so that it's beautiful and sparkling, which is why I'm asking you!
Clarity: Obviously I want it to be eye clean, but beyond that I really could not care less what the clarity grading is. However I've never purchased a diamond on the larger size before, so if I should be avoiding certain clarities at this size I'm open to learning.
Budget: 30k for the diamond, max. Obviously less is better. We agreed to go all out on the diamond and do a very simple band, to be updated for an anniversary if we want. I really don't want to upgrade the diamond itself. No shade whatsoever for those that do, it's just that I'll be an older bride and my partner and I both like the idea of hanging onto this diamond.
Thank you so much for your insight!!!!!!!