Joined

Jun 24, 2020
Messages

4
Hi guys,
First I want to share my experience with Brilliant Earth. I posted
https://www.pricescope.com/community/threads/opinions-needed-on-these-3-stones.257635/
earlier this week for suggestions between another 3 MMDs. I decided to go with the first stone from BE.
I asked for a visual inspection via their webpage live chat on Wednesday, and a customer rep told me they will send me the result via email when available. Then I got an email from another rep asking me what I need help with. Not sure why they didn't pass the message through, but I replied again I want a visual inspection for a specific diamond.
On Friday I haven't got their email response, not even an ACK, so I made I phone call to ask whether the result is available. I was surprised this time they told me no inspection is requested.
Another thing is that I tried to call them on Thursday around 4:30pm. I waited for 10 mins, but nobody answered the phone. I tried again after 5pm, this time I couldn't get through. I'm wondering why the website said the line is 24/7. "Our jewelry specialists are here for you 24/7. Call us or live chat us at any time."
Because of such incidents, I feel BE's customer support is not very unreliable. I also read a few posts about terrible BE experience in this forum. Thus I decided not to purchase from BE.
------
In comparison, I think JA's customer service is very nice. They are very responsive to my messages. And they don't charge for putting diamonds on hold.
I scanned through 1.3 - 1.7 ct G+ MMDs on JA. Now I've narrowed down my choice to these 3 stones below.
A: 1.52 ct / F color / VS1 / hca 1.6
9086379 - This 1.52 Carat Round diamond F Color VS1 Clarity has Ideal proportions and a diamond grading report from IGI
www.jamesallen.com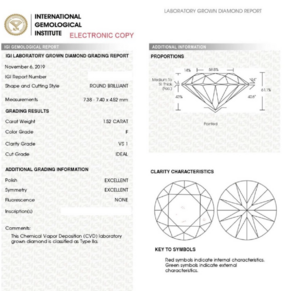 B: 1.32 ct / E color / VS1 / hca 1.9
9068192 - This 1.32 Carat Round diamond E Color VS1 Clarity has Ideal proportions and a diamond grading report from IGI
www.jamesallen.com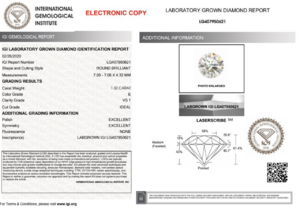 C. 1.36 ct / F color / VS 1 / hca 0.9
9086395 - This 1.36 Carat Round diamond F Color VS1 Clarity has Ideal proportions and a diamond grading report from IGI
www.jamesallen.com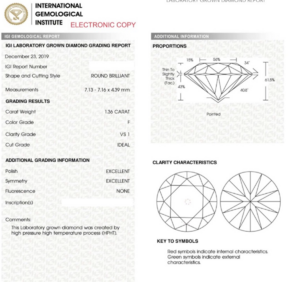 My priority is cut > carat > color. B seems to have the best arrow pattern, but the crown angle (35.6) is not in ideal range. What's your opinions on them? Would love to hear your thoughts