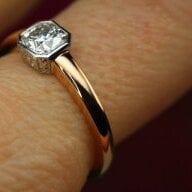 Joined

May 1, 2007
Messages

2,952
Okay, so I have been on PS forever, but I don't seem to have the mind that some of you do to understand and retain all the info related to finding & shopping for a great diamond. I have tried to do it alone for other purchases, and I have inevitably ended up kicking myself over one aspect or another. So this time I'm reaching out for some help & support!
I have a big birthday & anniversary coming up, and DH has kindly offered to gift me a diamond ring for my right hand. I would love a square diamond, in part as a nod to my original (a princess, which I traded in for an OEC), and because I still enjoy the square shape.
- Thinking an asscher, or possibly a cut-corner H&A radiant
- You know, as Jon said in one of his videos, an asscher with a hall of mirrors, ten miles deep, tons of brightness, pastels, great brightness and contrast patterning
- Diamond + setting, 4k.
- I tend to like higher colors - would love an F, VS2, but I'm open to D-H, and VVS-VS. Am always open to lower color/clarity if it's that needle-in-a-haystack.
- Around .75ct, give or take, based on budget.
- I'm planning to put it in a simple bezeled solitaire, possibly with some engraving, likely 14k or 18k gold (not sure unplated white, rose, or yellow).
Would
GOG
be the best to work with on an asscher (or the H&A radiant)? Anyone else you'd recommend for asschers or H&A radiants?
Any recommedations of stones from those of you with an eye & experience for asschers? I have found a few on
JA
that seem promising - but I hesitate because I can only ask for three ASETs, plus their upgrade policy requires 2x the purchase price, which isn't as good as some others.
Thank you so much!!