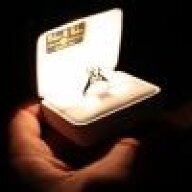 Joined

Sep 23, 2009
Messages

50
I finally found an Asscher that I like the "look" of...but I need all you asscher diamond lovers to give me all your brilliant criticism!!
Diamond Info:
Item Number: 1284618
Shape: Asscher
Carat weight: 1.37
Cut: Ideal
Color: G
Clarity: VS1
Certificate: GIA
Depth: 68.1%
Table: 64.0%
Polish: Excellent
Symmetry: Excellent
Girdle: Very thick, faceted
Culet: None
Fluorescence: None
Measurements: 6.02*5.95*4.05
Ratio: 1.01
I will attach the ASET image and Sarin scan next...
I thought it was beautiful in the normal image but then I was confused with the others...
I also fear the size will be a little smaller than I would hope for -- I have tried a few 1.20-1.23 that I felt were too small for my long fingers so I have been looking in the 1.35-1.5 range hoping to find something a little larger. I am afraid this is a diamond that is not going to face up big...prob look more small?? Opinions, experience?
Amanda