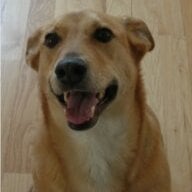 Joined

Mar 26, 2006
Messages

13,995
Happy Thursday kids!
Curby, oh no to the curbing! Itmreally doesn't look that bad though -- and having curbed two wheels on my last 911 I KNOW what a bad curbing looks like, LOL! You and I are both having teeth problems... ugh. I bit down on something yesterday at work and I felt a shooting pain in one of my lower left molars. It kept me up off and on all night. I called the dentist first thing this morning and he can't see me until next Tuesday so I went to Walgreens and got seventy eight dollars worth of ambasol and cup of soup (I'm afraid to eat anything real!) and who knows what else. Let's hope the pain stays at bay until I can get to the dentist!
Aside from the Walgreens trip, I packed up two orders that came in over night, took everything to the post office, and then took the ferals so the eldest one could get a haircut, made a swing through Kohl's to get them swim shirts because part of the weekend's adventure involves a water park, and finally went through the Culver's drive through for milkshakes. I wasn't really sure I would be able to have a milkshake but I kept the coldness well away from the sore tooth and it worked out OK. So now my diet consists of cup of soup and milkshakes. Super. Tomorrow Liam is going to work in the morning and I'll work on getting us together for the journey.
And... guess who may have just placed an order for the stone we were texting about... I blame this all on you!

No idea how I'll set it; I guess I need to get it first and see if I even LIKE it! There is a gem show coming up at the end of August/beginning of September and maybe I'll see if anything there strikes my fancy. I've never done that before, and I do worry about ending up with lousy prongs, but for the right price I might be willing to give it a go. First though, the thing needs to make it's way around the globe and I have to decide if I even like it!
OK, off to clean up the kitchen a little. Apparently while I was trying to catch a little nap since I didn't sleep last night Liam and the ferals had a pizza. Oy.