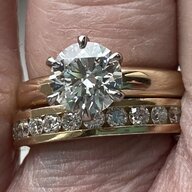 Joined

Feb 27, 2007
Messages

23,947
Hi Kids!
Dee Jay, it's nice you have an inside contact on the house TR likes. Hopefully his new offer is the winner. Good luck!
Woo hoo to being in a condo you won't end up running. Hopefully everyone is nice though.
I am doing okay with my lifting. I am stronger for sure. I know lifting helps on balance. Marty has a 74 year old client who needs him to hold her hand whenever she squatted or got on the bench and she does it all by herself now. I have lost some pounds and inches but it's gradual. Another one of his clients has lost 5 dress sizes and has a ways to go but she loves lifting and sticks to her diet. Pretty cool.
Look out returning everything because you know you'll come away with some new things. Or most likely anyway.

Did you bust some heads? I wouldn't mind doing that myself.
We were short handed at work again today so I enjoyed doing work work. My boss called in sick as well so that made the day even better. I picked up Culver's for supper - I had a Swiss butter burger and a dish of vanilla custard. Marty likes those cranberry bacon blue salads. I went out to lunch with a friend of mine from work; it's so nice to get out of the office since i usually eat at my desk.
My night was way too short. I think sir snore in my ear startled me at about 2 am and I kind of jumped and my heart starting kind of racing. Then I was hot and it took me about 2 hours to fall back to sleep. Phooey.
Take care.
Curby