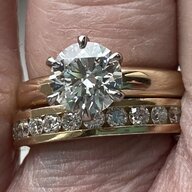 Joined

Feb 27, 2007
Messages

23,148
Hi Kids!
Dee Jay, I am sure the second appraisal will come back fine; that makes it tough when there isn't anything similar to compare it to. You are just unique which is always worth more.
Darn that it is slowing down your packing though.
I just paid for my earrings so I should get them in about 3 weeks. The gem show sounds really fun. I should check when the next one is going to be Denver. Then again I think I've spent enough money lately.
I like the idea of mailing people at that unit to see if anyone is interested in selling them. You might find that perfect spot that way. You don't know until you try.
Your post office story sounds like small town Wyoming. That is kind of crazy - I get the window closed more than being out of stamps. Our astronomy club used to gift wrap for donations at Barnes and Noble one day before Christmas. Marty went across the street to a Burger King to get all of us burgers and fries for supper and they honestly didn't have any french fries. Isn't that a staple for a burger joint?
Marty grilled steaks and made mashed potatoes for supper. I saved half of mine for lunch tomorrow. It was pretty nice here today. I finally remembered to get a hair appointment on Saturday so I can get my hair cut. I should go short so my earrings show - then again I like it at least past my ears.
Take care.
Curby