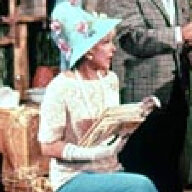 Joined

Nov 17, 2004
Messages

525
This morning, my BF (uh, I mean fiance

) asked me to help him with a photo shoot of the Fire Island Lighthouse (spectacular day and crystal clear views of the Atlantic Ocean). I was supposedly there to "hold the tripod". We trekked though the snow to the lighthouse and knocked on the door..there were a few volunteers inside, but they said that the lighthouse was closed to tours until noon...but they would let us go up anyway. We were escorted to the top by a volunteer tour guide who filled us in on lighthouse history etc. At the top, the guide let us go outside by ourselves. My BF told me to start taking photos..I snapped one and then turned around to find him kneeling and holding a ring box!!! His proposal was so sweet and the setting so perfectly "us" that we both cried but managed to take lots of pictures to remember the moment!!!! The folks at the lighthouse were fantastic and toasted us with a bottle of wine.
When we returned home, the house was filled with flowers. One of our good friends had worked with my BF to transport the bouquets from the florist while we were gone. He even set up a champagne bucket.. ohmygosh guys, it was the best. Still IS!! I'm FLOATING!
and OH MY, OH MY, OH MY the RING. Leon outdid himself!!!!!!!!!!!!!! heaven! I will post pictures!!!!
-lovey
...guess this means I'm OFF THE LIST!!!!!!!!! But hopefully I'll still be on the "guest list" lol! Thanks to all of you who have filled my stay here with caring and thoughtful posts...