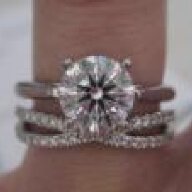 Joined

Apr 15, 2009
Messages

70
Hi All! This is my first post on BWW as I have been so busy with wedding planning, grad school, and working full-time...I have been engaged since 6.14.09 and I am getting married 11.6.10! I am so excited! My fiance and I have pretty much everything done for the wedding...the big stuff like venue, photographer, pastor, florist, etc. One big thing that we are having a hard time with is finding wedding bands..both for him and myself. I really love the Honey channel band from
WF
but I am worried about the gaps in between my erring and the band, as I have a custom
WF
basket setting. Here are pics of my ring from my
SMTR thread
and I am not sure if you can tell, but the basket (which I totally am in

with) curves out from the band, which makes it difficult for wbands to sit flush with it. I don''t want a curved wband, as I am a social worker and in some situations, I don''t wear my ering, so I want to get a band that I can wear alone. I found a Kwiat wband (I love Kwiat..they inspired my ering) and
WF
said that they could make it for me...I just wanted to get your opinions! I really love it, I just don''t want it to overshadow my ering...I posted the Kwiat ring below...what do you think?! If anyone has any other suggestions, please post them, I am really into unique designs!
As for my fiance..he really loves meteorite rings but we can''t find anywhere to actually see them in PA or NJ...He is a big car/motorcycle guy and loves carbon fiber, so we are also looking at titanium or tungsten with carbon fiber inlay...it''s hard though because most of the B&M places all have the same rings and he wants a unique ring too! Any ideas for him???
Thank you all so much for listening!!