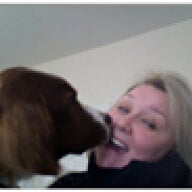 Joined

Jan 5, 2009
Messages

2,655
ok - i probably worded that wrong right off the bat. however...

i''ve wondered, as i''ve spent time on PS, about my own tendency to see things and think "i want that! oh - and i want THAT! and i want THAT - too! and could you just throw in a couple of those and 2 or three pairs of that thing sitting behind it?"

i mean, PS is such a visual medium, i wondered if it has the potential to lead people - not only to WANT things they cant afford - but to also make unwise purchases or dangerous use of CC''s.

had anyone out there ever bought something they really couldn''t afford because they''d been drooling over it on pricescope?

let''s speak up and support each other if this is happening, cause in this economy, getting in over our heads financially is no laughing matter, and i could totally see how jewelry purchasing could get out of control.

and i''m not just referring to putting too much pressure on your bank account. have you ever put pressure on your significant relationship because you kept angling for something your partner either didn''t think you/he could afford or just didn''t want to give you?

is anybody out there flying too close to the wind? does anyone need help to regain some perspective? when all is said and done, rings are just a little piece of metal and rock on your finger, but on PS they are an obsession....