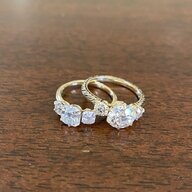 Joined

Jan 28, 2017
Messages

131
As you can tell, Caysie tends to be hit or miss with clients.

Personally, my experience with her was positive. My gf and I wanted her to make our engagement rings (but we're using Distinctive Gems moissanite so can't post them in SMTB, boo). If you like Caysie's aesthetic, nobody does exactly what she does. I ordered in April and got the three stone Maria ring in early July. Girlfriend ordered my Karissa ring in July and it arrived in October. I would guess this is the timeline you could reasonably expect for a pre-existing setting design (it also includes how long it took to get the stones to her, which took longer in my gf's case, and wasn't in Caysie's control at all). I found Caysie to be friendly and responsive. We communicated via message on IG.

Of course, Covid was changing the game in terms of what could be done by when, but from my research on these forums I wasn't expecting a swift delivery. That was fine with us—we had time and were willing to wait to get exactly what we wanted. And we did! Girlfriend's ring is an absolute dream. I'm very satisfied with the end result and am not so patiently waiting to see my own ring as well! GF assures me it's perfect.

Basically, go in armed with patience and see if you click, as other posters have said. If you don't click, no harm, no foul. If you do, and you've got the time, the odds are good you'll end up with a stunner. Best of luck to you!
Last edited: