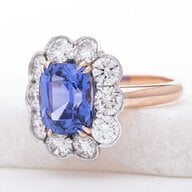 Joined

Jan 9, 2006
Messages

6,390
Hi all!

Hy husband and I are spending 5 weeks in the USA from next week (SQUEEEEEEE!!!!!



). We are having a week in Manhattan, and naturally, I will be visiting the diamond district! Being in Australia I have to pay GST on all diamond purchases over $1000, which is a real pill, so I figure this would be the best time to upgrade my
IDJ
eternity ring. It is made up of 10 pointers, and I was thinking of upgrading it to 20 pointers. Has anyone done this? I'm wondering if it will be a worthwhile jump, but by the same token I don't want to wait until we get home to upgrade it even bigger, to save myself a few hundred $$$ in postage and GST costs.
Does anyone have a side by side comparison of eternities in similar sizes to these? I can't imagine I'd want to go much bigger than 20 pointers, but I wouldn't want to drop hundreds on something that basically looks the same as what I already have!
Thanks!!