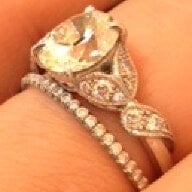 Joined

Feb 17, 2007
Messages

14,167
Hi everyone,

We are in the process of having my ring made (yay!). Orginially, we were going to go custom with Mark T., but I don''t know if my design can be made as thin as I want it to be (I want it to be 2mm and it was supposed to be a knife edge with a taper at the top). Sooo....might be on to plan B.

Plan B is to have a Leon solitaire made (572 if anyone is interested). I know it has been discussed that Mark and Leon work together, but how does that work?


My question is: How does it work going through Mark/Leon? Does Mark do all the dealings and then charge a bit more? Or is it my responsibility to deal with Leon and Mark and coordinate it?

Mark is away right now, so can''t answer the question till later this week and of course I am impatient and was wondering if I should make a call to Leon. But of course I don''t want to bother him if we won''t be going that way.

Thanks!!!