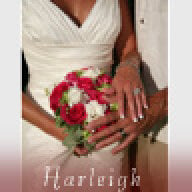 Joined

Jun 30, 2007
Messages

3,072
Hi Ladies,
I saw the summer bride check-in, and realized I haven''t given an update in a long time, and this is going to take awhile, so I thought I''d start an update of my own stuff.
So, only 13 days to go for me, and we leave for Maui in 8. Sorry I haven''t been able to post much here on PS with all of you, but I''ve been trying to move out of my house using my tiny little Mustang convertible, and since the rest of the stuff isn''t packed at the house, it''s been slow going. (Not to mention that when it''s 107 degrees outside, my upstairs is reaching almost 100 degrees, and it is horrible!) I''ve decided that moving is slowly taking over my life and away from my enjoyment and anticipation of our upcoming nuptials, so I''ve decided to just do what I can in the next week and then let it go until after we get back. It''s packing up little stuff, emptying closets, patching walls and painting and then the final cleaning, but I had to make the decision in my mind that I just will not have the place ready to rent out by August 1st since we don''t return until that day, and then I start back to school the following week, so I just can''t worry so much about it. I figure I''ll go over each day after work for a bit since the house is closer to my school than Rusty''s house is...think of the gas I''ll be saving doing it that way!

Also, Rusty''s computer freezes up every 10 seconds, so I hate to use it, and when he''s actually home and not working overtime, I feel guilty being on the computer all the time, so I''ve been trying to spend as much time with him as I can when he is home...this cohabitating thing is hard when you''ve never done it before, but it sure is cutting into my PS time!

So, my due to the frustration caused by my lack of being able to communicate with you all, I got the ingenius idea to actually PLUG IN my new laptop I bought myself for my birthday (it''s this Friday...perfect timing for the trip, no?
) and actually hooked it up to his internet cable the moment he walked out the door this morning...he''s working for the next three days, so I should hopefully be able to communicate from now till then! Why I didn''t think of this before, I''ll never know...I''m planning to go wireless with this laptop, which I can do from my house but not here at Rusty''s, so that''s what I was waiting for, I guess, and I just couldn''t see signing up for a wireless plan when we''ll be gone until August!
Both bridal showers were lovely...my best friends put on a completely lavish affair that was to die for. 5 of us then went out country dancing for my "Bachelorette" party that same evening and we had a blast! We were all pooped because we had moved all of my furniture and large stuff 2 days before, and let me tell you, 3 of them pitched in like crazy, and I could not ask for a better group of friends than these special gals. They loved their monogrammed bags full of goodies (I can''t remember everything, but there were, amongst other things, an extra monogrammed tote since the embroiderer messed the font up the first time, fuchsia rhinestone flip-flops, a picture frame to put a pic of us in after the wedding, makeup and lotions, fingernail polish, a cloisonne purse holder, a sleep mask and spa kit and a fuchsia shawl to wear after the wedding if it gets cold by the water and some personalized note cards for each girl.) I also got each of them a fuchsia photo album that says "Girl''s Night Out" on it to put Bachelorette pictures in...they thought they were really cute! I will also be giving them the DBTY sterling jewelry in a silver monogrammed jewelry box when we get there.
The shower with Rusty''s family was wonderful...I am so fortunate to be marrying into such a warm and loving family...I can''t wait to be a part of it!
Enough of all that...
here''s a wedding update:

Unfortunately, our event coordinator for the dinner reception went on maternity leave early and did not tell me until the day before she left, which was the day before the 4th of July holiday, and that was only because I contacted her about squaring everything away and making sure all was being taken care of. She assured me the chef would be taking care of everything, but I reminded her that he had already let me know
he would be
here in California
at Infinion Raceway at the races that day, so, it appears they have no idea who will be taking care of my wedding dinner!

I am trying not to have a panic attack about this one right about now! Also, no luck with the salon there at the hotel, so I''m going to go check it out when we get there and see what I can find out. If worse comes to worse, I''ll try to do my own hair and throw the ebay veil on top...it makes a great frizz cover! I have to let these two things go and just pray for the best, I think!
The Welcome Dinner is set up and ready to go...they don''t have the best reviews online, but they are by far the friendliest and most responsive restaurant that I''ve had contact with in Maui that Rusty''s parents can afford, and they''re the oldest restaurant on the island, which they started the year I was born, so I''m taking that as a sign from above that it''s meant to be and am running with that one and hope it is just superb! As Rusty''s mom says, how badly can they screw up Italian food, and if worse comes to worse, we''ll take everyone to McDonald''s for dinner afterwards if it''s really bad!

Both my mom and Rusty''s mom have changed their dresses without telling me...my FMIL''s is actually very pretty, but it is the identical color of the one my mom had, so my mom went out and bought a BEIGE dress...it is hideous and will wash her out even more than she already is. Did I mention this dress goes with nothing in my wedding??? I love my mother, but she has seriously been a thorn in my side from day one of planning this wedding...my goal is to stay away from her on the wedding day until AFTER the ceremony is over. That''s the only way she can''t ruin my day by saying something unkind or by being just plain mean...my girls and FMIL have been coached on the drill to keep her from driving me insane! On a side note, she can no longer find her wedding shoes I bought her...she thinks she donated them to Goodwill. Does it get any better than this, I ask you?

I will just grin and bear whatever she shows up in...at least she''s coming, right?
Some fantastic news:
We just got our outgoing flights changed back to their original times...with all of the airline closures we weren''t going to be getting into Maui on the 17th until almost 8 PM, which wasted a whole day just getting there...argh! Rusty called and sweet-talked some lady into our original flight arriving around 1 PM that day, so now we can go to Costco and Wal-Mart and get our toiletries and the rest of the Welcome Bag stuff and put everything together that day instead of all through the night! Woo hoo!
Just a reminder as to my attire, I am wearing the same dress that Neatfreak wore last year, the Casablanca 1831 in ivory with the sparkly bead detailing, and yes, I am wearing the bright fuchsia shoes I found on Zappos! I haven''t told anyone going about the funky shoes as I want everyone to be surprised...especially my mother!

I got the dress hemmed and the straps taken up, so it fits perfectly now! My wedding colors are fuchsia and celery green.
The florist said the bouquets I chose don''t fit into the $150 budget per bridesmaid bouquet...huh? I thought orchids were island flowers, therefore more reasonably priced??? My bouquet is $175 dollars, and I think it should have dollar bills coming off of it for that price! I have no idea what I''ll end up with...not sure I care at this point! I have tried to work this out with the wedding coordinator, but I have just given up on this one...whatever I get will be fine and will have to suffice the day of.
Also, our photographer bailed and another has stepped in...not sure how I feel about that, either...guess we''ll just wait and see!
Harpist is still confirmed, and since we couldn''t make up our minds on music, we are having him play island music while people are being seated and then pretty much left the rest to him...again, not sure how much I care at this late date! It will all be beautiful, right?
So far, here is our plan of events scheduled while we''re in Maui:

7/17-Arrive in Maui, go shopping for toiletries and food, put welcome bags together, decompress a bit and revel in the fact that we''re in MAUI finally!
7/18-Sign Marriage License, take dress to formal shop to be pressed after CRAMMING it into a tiny carry-on as they won''t let me take the garment bag on as-is

7/19-Pick up dress and take to best friend''s hotel room, hopefully! Dinner Cruise (Rusty likes to call this the "Booze Cruise" as it is the only one with an open bar...uh oh!) Pass out Welcome Bags to all of the guests joining us on the cruise...most everyone but our families will be here and going on this with us, and since the Welcome Dinner is so late, I''d rather get them out ASAP!
7/20-Ziplining at the butt-*ss crack of dawn-my best friend is surprising her BF with this trip & we get to go along, too! I''ve never been on anything like this, so I am really looking forward to it!
7/21-Welcome Dinner-Pass out Bridal Party gifts and remaining Welcome Bags
7/22-WEDDING DAY! We''re getting married at the Ka''anapali Beach Club in the gardens. Still looking into scheduling massages and maybe a hair trial with someone at the hotel. I went to Bare Escentuals and had a makeover done, so I''ve been practicing with that the past two weeks...not sure how I''m doing on all that, though...I am horrible at applying makeup!
7/23-My best friend''s BF is going to PROPOSE to her this evening...I''ve helped him pick out a 3-stone princess from Whiteflash-a .96 G VS2 center with .25 sides...I''m so excited that we''ve managed to pull this off w/out her finding out...I can''t wait!

We will relax and enjoy being married and pretend to be surprised by her big news!
(I get to hold onto her ring while they hold onto my wedding dress...this way, she can''t find the ring and Rusty can''t see the dress! A perfect plan, no?)
7/24-Move to hotel in Ma''alea for the following week. Luau where my best friend can show off her new beauty! How sweet is it of him to wait until after our wedding, I ask you???
7/25-Guests start going home and we relax for a bit!
7/26 & 7/27-Absolutely NOTHING planned...woot woot!
7/28-Warren and Annabelle''s Comedy Club-Royal Flush Package-this is supposed to be a hoot and we were told a not-to-miss activity while in Maui
7/29-7/30-maybe some snorkeling, relaxing by the pool or beach?
7/31-Fly to SF late, so staying the night at a hotel
8/1-Home sweet home!
8/2-Post pix here for you ladies on PS!!!

Whew! That felt good to write it all out...I think I''m going to put it out on a calendar to take with us and help us stay organized...
Reception Update:
We also finally got to meet with the other caterer we were interested in for our August 16th reception, and she agreed to a FANTASTIC menu for $18 (tax included!!!) a person...I just can''t believe it! The other caterers were WAY more expensive and she was also the only one willing to do a "tasting" for us, provides rolls and bread, punch and tea and all the paper goods. Not only did she bring the food to our home, she brought us over 15 different things to try, and left us with an entire tri-tip for dinner, as well! All of her food was spectacular, and we are sending off the deposit in the mail today! We ate like kings for 3 days off the food she brought us...yummmmmm!
I finished making the reception invitations, and I must say, I think they look better than the actual wedding invitations! Those all went out on Saturday and we''ve already had 39 people RSVP on our reception website as of last night! I can''t believe I actually got those done before we leave, and with spare time, to boot! (This is only because I''m in denial about moving out of my house, I''m sure!!!)
Rusty also called and rented two porta-potties and a wash station to be delivered for the weekend of the reception...4 days of extra toilettes and 2 sinks for only $175 bucks! I''m thinking with those savings I can try to talk him into the photo booth I''m dying to have the day of...I''ll have to work on that one, though!
My birthday is Friday the 11th (as written from my birthday gift to me laptop!), so I asked Rusty for some green amethyst jewelry to wear for the wedding that goes with some of the stuff I already have and was considering wearing that day. The only other thing I asked for was a GPS system for my car and he seemed to think I''d be getting a newer car than my 9 1/2 year old beast sometime soon, so I am REALLY hoping for the jewelry, but I won''t get anything until he gets home from work on Saturday, and knowing him he''ll wait till the evening or something...I can''t post pix from his computer as my camera is too megapixaled, but if I get new jewelry, I''ll try to share with you from the new laptop before we leave!
I am starting to get excited...I laid out the carry-ons and my suitcase in the spare bedroom last night amongst all of my moving boxes...while Rusty is gone for the next three days, I''m going to work on putting lightweight outfits together and hopefully get that squared away.
I have another body wrap scheduled for this week, a dr.''s appt. for steroid shots in my shoulders on Thursday and a last check at the dentist on my bleaching trays, too.
Next week I have my last body wrap and facial, a highlight and a haircut, and then I''ll try to schedule a fill and a pedicure for the last possible second before we leave for our trip. I think my something blue will be a french manicure on my toes with a flower with a tiny blue rhinestone center. I know that''s not very creative, but blue just doesn''t go with fucshia and celery green IYKWIM!
I think that''s it...did I forget anything else? So sorry for the long post...I guess I''m making up for all of the time I''ve lost moving into FI''s house this past couple of weeks! I miss you all and check in whenever I can to read about how you are all doing.
Thanks a lot to everyone here who helped me plan my wedding day...I am looking forward to sharing it with you all!
Best of luck to the rest of you summer brides...have an awesome day, and I can''t wait to hear about everything and see your pictures when I get back!