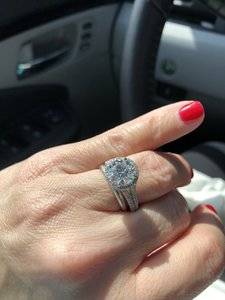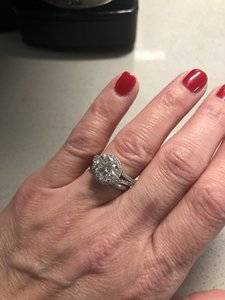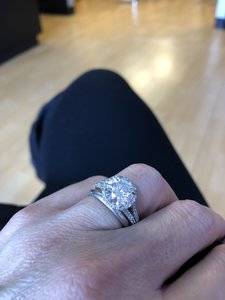 As of Friday I am the proud owner of a gorgeous Diamelia Blazing Arrows 9mm gem!
I have been married for more than 10 years and got the itch to upgrade my 2ct RB natural diamond...l
Life and kids are expensive and you know the rest, so when I discovered Moissanite I was so excited. And so began the journey of many of the different moissanites out there.
After reading hundreds of posts on various boards I came upon a posting by another happy Diamelia owner and something felt right. I looked and looked, and finally ordered 2 stones to see. They were amazing! I looked at others (even ordered/returned one other brand) but everything pointed back to the Diamelia. It was gorgeous, and SO diamond like! I held it up to my natural diamond ring and obsessed over it in different lights and angles. Wow! Almost identical! The Diamelia is gorgeous in its own right, but let's face it I was buying it for its diamond like characteristics. I am not in the jewelry industry nor will I ever be so in simple terms the gem is gorgeous, looks, feels and sparkles just like a diamond!
My experience with Ron Hansen, the owner of Gold and Gems (and owner of the Diamelia gem) was perfect from start to finish. I knew right away that he was the right person when we had our very first conversation. I am admittedly high maintenance and knowing I was driving this process (not my husband) I needed someone to design my ring that I can speak to, communicate with, and feel comfortable with. I Obsessed for awhile on his website, IG, etc and felt that he was equally as passionate about the Diamelia as he was about his ring designs. And so began the design process.
Literally every step of the way Ron was available and responsive. He was so attentive to every detail and I could see it reflected in his designs. This is essential to me. He is honorable, caring, and his prices reflect the quality and service you get. Not the least expensive, not the most expensive. But I knew I was getting a quality product that he would stand by.
I ended up with an F color 9mm RB Diamelia VVS1. My ring is platinum and the halo is 1mm wide and I absolutely love it. I won't lie-I had sleepless nights obsessing over details and how they would look in real life, but he got my vision, guided me when he knew better than me (which was most almost always) but listened at the same time. He never complained about the numerous emails I sent or my spamming him with pictures of the rings I loved!!! My ring is an absolute work of art (to me!!) and he definitely exceeded my expectations!!! I cannot stop looking at my ring. I was just so happy with my whole experience that I wanted to share this with you all. You are guaranteed an amazing experience no matter if you buy only the stone or have him make the whole ring. I am so happy pics attached. The pictures don't do it justice.