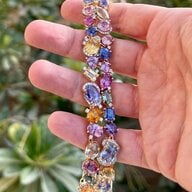 Joined

Oct 1, 2015
Messages

1,631
So I know I was not supposed to be buying any more loose stones until I set the rest but….. I was bad.

I impulse purchased a purple sapphire which I totally do not need but I didn't have one that colour.

It arrived today and I've got a lovely surprise. It was sent off to the lab after I bought it and it has come back as a colour changing stone AND unheated! I bought it as straight purple and heated so that's a great result.

The stone itself is very deeply saturated and darker than ideal but when it picks up light in the sun it throws off some gorgeous purple flashes.

But now I'm annoyed because nowhere in my house do I have a single incandescent light bulb so I can check out the secondary colour.

Would the best bet be to light a whole bunch of candles? What other options are there?

Once I figure it out I will post pics.