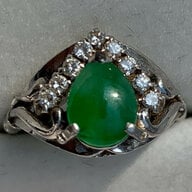 Joined

Jan 26, 2014
Messages

798
Someone suggested I make a forum showing a group shot of my rings. Unfortunately I find when I have to many rings, I don't wear some of them or I stopped wearing, and many have been sold to help for funds of a newer ring, plus that way the rings go to a person who appreciates it more. I loved my enhanced yellow diamond very much, but the enhanced part started to really bothered me so I replaced it with a untreated yellow chrysolberyl. Here are the rings I currently have, plus two more to come (yellow gold textured stacking rings with Montana sapphires I found from the rough myself and Gem Mountain).
From start...
Pointer finger top- Untreated padparascha colored spinel
pointer finger bottom- Untreated soft neon yellow chrysoberyl
Middle finger...
top- natural untreated cognac diamond
bottom- Natural untreated cabachon Pakistan
Ring finger...
top- Heated only burmese ruby
bottom- Heated only montana sapphire
In my room light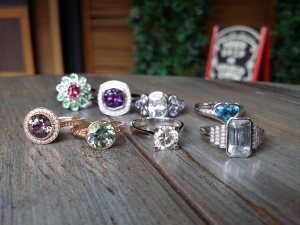 In indirect sunlight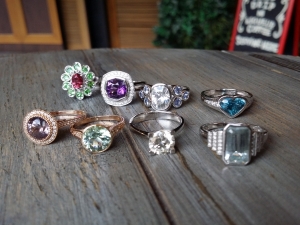 Direct sunlight to help you see the glow of chrysoberyl, ruby, and emerald