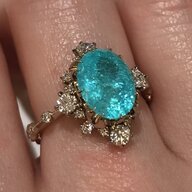 Joined

Aug 25, 2014
Messages

595
My beautiful 88 year old grandmother just flew across the world to come attend my younger brother's wedding.
She gifted me a heart diamond ring when I got married. I've never worn it as it was too big for me. When she heard this, she asked to try on one of my rings to get a feel for my size... then walked into her room and came out with a ring that she said she would like me to have.
It's an older style ballerina ring, but I love it because it's from her. It also features a red stone (which I suspect is a garnet) which is so fitting for Valentine's Day!
Sorry for the crappy pictures. Limited to my old iPhone camera. I do struggle to capture the colour in the photos, which make it look dull and dark. It's kind of a deep rich red which lights up under different angles, especially in brighter lights.