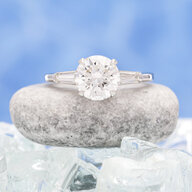 Joined

Jun 15, 2015
Messages

2,568
So I bought the most beautiful ring from ForteKitty off of LoupeTroop. She was a sheer delight to interact with, seriously one of the nicest sellers I have ever spoken to in my life! She had good humour for my MANY many questions and was very patient as I hemmed and hawed because I was nervous about spending what for me, was so much money.
After having mixed experiences with my JbG moval, part of me was afraid of buying diamonds ever again. But with ForteKitty I felt so comfortable and with her great reputation I just had to pull the trigger. I'm so happy I did! And I will write up fully about this experience I had with her, but the thing that has stopped me is that I'm not wearing the ring! Gah!
The reason is that I don't have a band to match the ring yet. It's a nice low profile setting, but that also means that nothing sits flush. Ideas?
One option I'm considering is buying a couple 2mm 18k white gold bands from American Set on EBay. Then cutting them open and soldering them next to the e-ring, one on either side. What do you think?
I also love the idea of a small micro pave diamond band. Maybe I could get the basket raised on the e-ring so that it sits flush? Hmm.
Ideas much appreciated!! I want to wear this ring, but not by itself and not with a huge gap.
It is an L colour set in 18k yellow gold with a white gold shank. Size 5. If memory serves, it's a 0.77ct radiant. Woo woo!